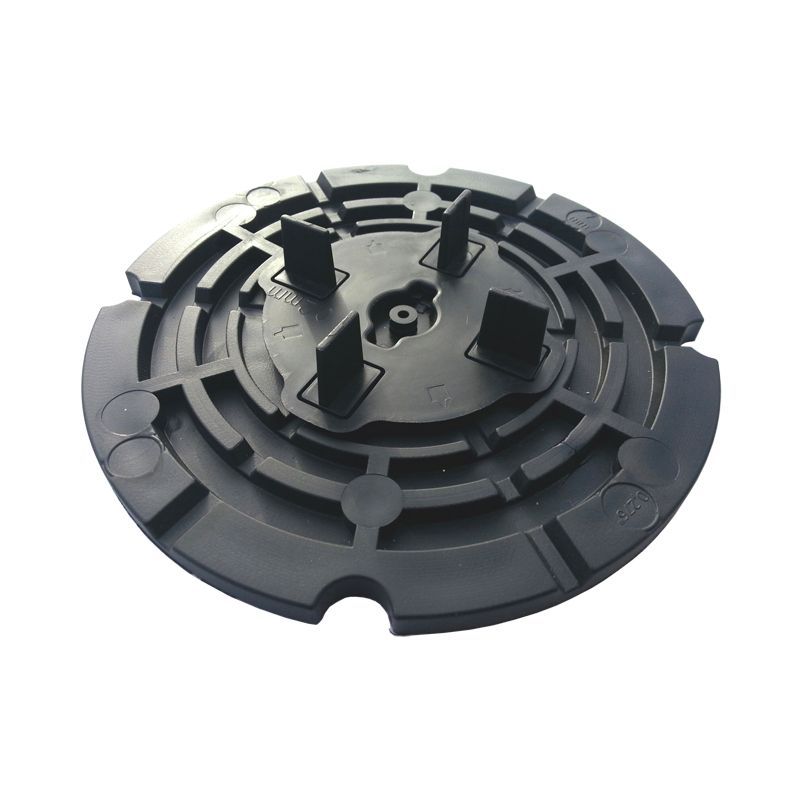 Rubber Paving Support Pad - 7mm Fixed Height
Additional Information
Product code:
SP-RUB-007-PAVING-Z
Brand:

Wallbarn
Estimated delivery:
2-3 Days
£0.86 inc vat £0.72 ex vat
1+

£0.86
inc vat £0.72
ex vat
Properties
Lug width : 2.2mm as standard.
Lug material : PVC.
Weight tolerance : 8,000kg.
Outer diameter : 150mm.
Thickness : 7mm.
Number of drainage holes : 6.
Lug height : 15mm.

Rubber discs designed for areas with restricted height thresholds to raise paving off the surface but still offer sufficient drainage.
Wallbarn has designed a new 7mm thick rubber disc for paving complete with integrated spacing lugs.
The pad will lift paving off the surface by 7mm, making it ideal for retro-fit projects and areas with very low height thresholds.
The upper surface of the pad contains drainage channels which run out to the edges of the circular disc, meaning that rainwater will drain off the upper surface of the disc effectively.
The plastic positioning lugs are incorporated into the pad as they plug into a small hole in the centre of the pad or disc. This ensures that the paving slabs are clearly separated from each other with regular spacing between them, and are held securely in place.
Since the discs are made from rubber, they have a soft, flexible, hard wearing, non-slip profile; which means they protect the membrane beneath from damage. Rubber will also offer acoustic properties and create a separation layer from the deck.
They are extremely tough and durable and will also not become brittle in cold weather.
These pads are ideal for areas where a very tight height threshold is present, for example, on refurbishment projects. In certain circumstances it may be easier to simply overlay the existing surface with a new layer of suspended paving or decking rather than take everything up, and with the 7mm discs this is possible.
As with all the Wallbarn supports range there is no mechanical fixing required, the surface is secured by the weight of the slab. This cuts down weight on the roof and also the hassle and mess of laying slabs into mortar. This leads to easier, cheaper and faster installation and makes post-installation site inspection or leak detection much easier.
Product Enquiry Form
---
Rubber Paving Support Pad - 7mm Fixed Height
Price Match Enquiry

---
Rubber Paving Support Pad - 7mm Fixed Height
We will beat any current genuine advertised price on this product. Please fill in the form below with a link to the product on the site you have found it cheaper on, or provide photographic evidence and one of our sales team will contact you regarding your order.
Please Note:
Product must be identical
Price match must include delivery charges made by the competitor
A price match claim made after an order has been made for a product will not apply
Price match applies to UK deliveries only
Price match excludes items sold on auction sites or by private sellers