Gutters are an essential part of any roofing system and prevent problems such as water ingress, dampness and condensation. They channel rainwater away from roofs, windows and doors, transporting it to drains and keeping your house dry.
With so many different forms of guttering and guttering components on the market, it can be hard to know which one is right for your project.
You might be wondering:
How do I know what guttering I have?
You've come to the right place!
This guide will give you an overview of the different guttering types available, how to maintain them and how to fit them yourself, so you can choose the right option for your property.
Without further ado, let's dive right in.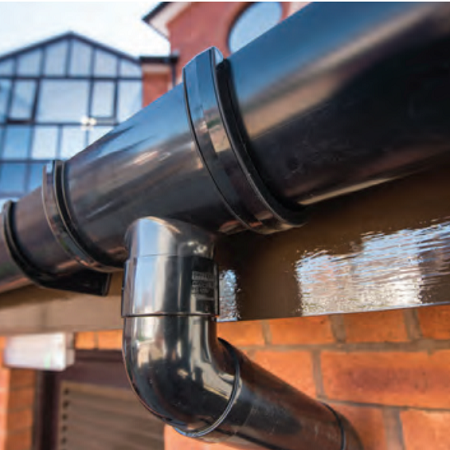 ---
Table of contents:
---
Which type of gutter do you need?
The type of gutter profile you'll require for your build will largely depend on the style and age of your property. A popular choice in the industry, half-round gutters are a good fit for both contemporary and traditional buildings. They're instantly recognisable, featuring a half cylinder which is open at the top to collect rainwater.
Properties constructed in the Victorian era often benefit from ogee gutters, as these add an air of tradition and authenticity to buildings. If you're working on a refurbishment project, it's a good idea to consider a deep gutter that will hold more water.
This is strongly advised in areas affected by high levels of rainfall. For a more modern structure, box gutters provide a great finish. They have a larger capacity compared to other types of guttering, and their rectangular shape is popular for stylish builds.

There's an abundance of choice when it comes to guttering materials too. There are pros and cons to using aluminium, plastic, cast iron, stainless steel and copper, but the main factors to consider are the type of building you're working on and the look you want to achieve.
You can find more information about choosing the perfect gutter profile and material for your project here.
---
Understanding the guttering components
Alongside the main gutter channels that we're used to seeing on building fascias, guttering systems are made up of a variety of specialist parts. From running outlets to gutter clips and shoes, there are many important pieces to navigate when installing a guttering system.
With that in mind, let's take a closer look at the various guttering components and their function within the larger system.
Gutter
One of the most recognisable parts of a guttering system, gutters collect rainwater and channel it away from a building via a downpipe. Gutters are available in different profiles, including half-round, ogee, deep and box.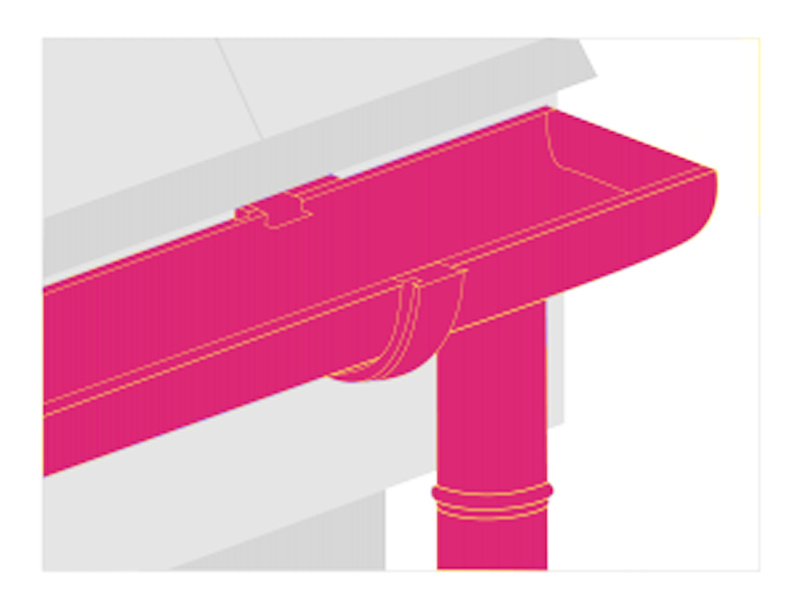 Gutter angles
Gutter angles support the gutters around the corners of a property.

Gutter union
A gutter union is used to connect separate lengths of the gutter. Unions are fixed to the fascia board and provide additional support to the joint.
Stop ends
Stop ends are used to cap off the gutter to prevent water from escaping. You'll find both internal and external options available on the market.
Support brackets
Support brackets are also known as gutter clips. They're screwed into the fascia to keep the gutter in place and can also be used to secure the downpipe to the wall.

Running outlet
Running outlets are installed to create a channel to connect the gutter to the downpipe.
Offset bend
Offset bends are angular pipes which enable guttering to travel from the fascia to join the downpipe. The angle of the offset bend allows a flush fit with the exterior wall.
Downpipe
A downpipe carries rainwater from the roof to ground-level drainage.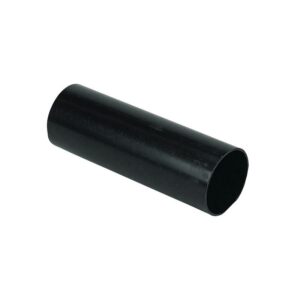 Downpipe connector
A downpipe connector is simply used to connect two lengths of downpipe together.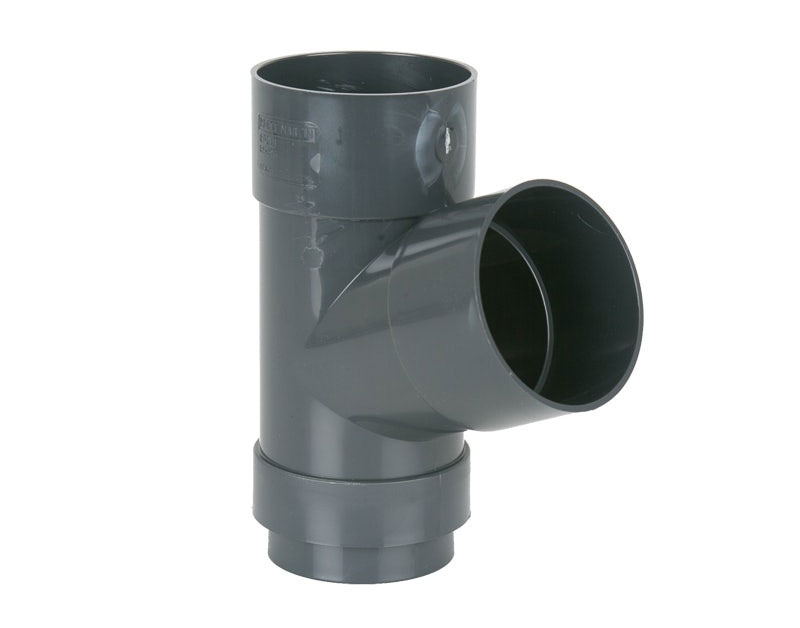 Downpipe branch
Similar to a downpipe connector, a downpipe branch also connects two pieces of downpipe together, but a branch connects them at an angle.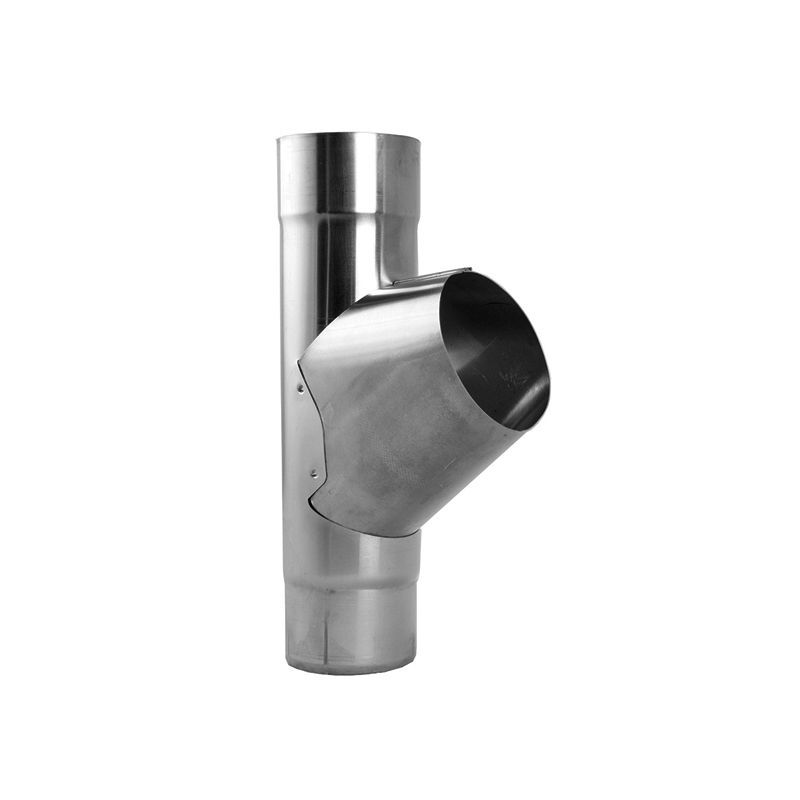 Downpipe shoe
A downpipe shoe is fixed to the bottom of a downpipe to direct water into a drainage system. They're commonly used when the downpipe doesn't flow directly into a drain and are not necessary for every guttering system.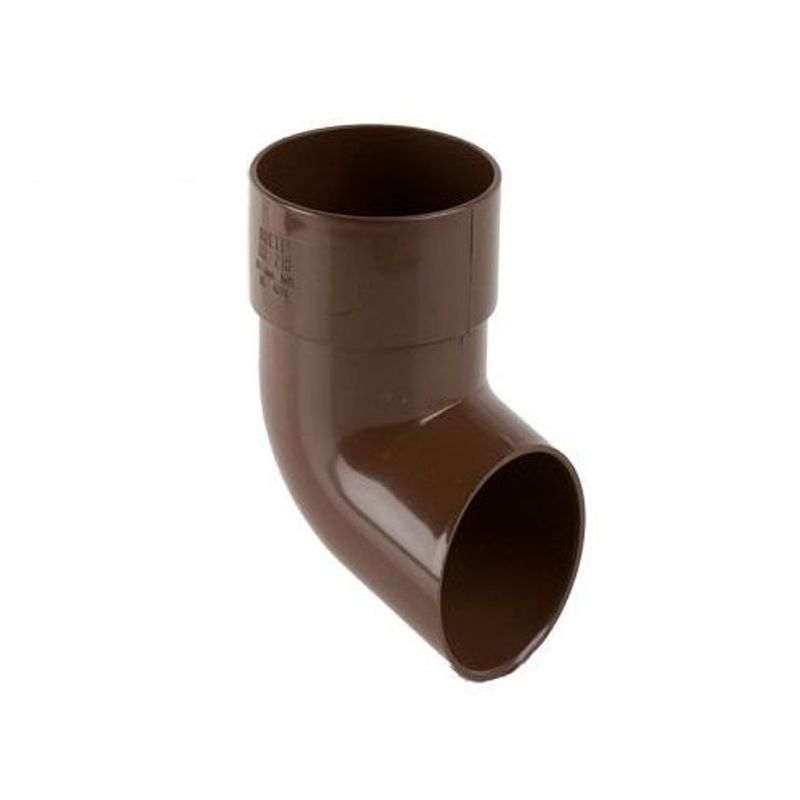 ---
How to choose the right gutter sizes
Before choosing and installing a guttering system, you need to know it can cope with the water falling from your roof. A gutter that's too small will block easily and spill water out, while a system that's too big will look bulky and unattractive.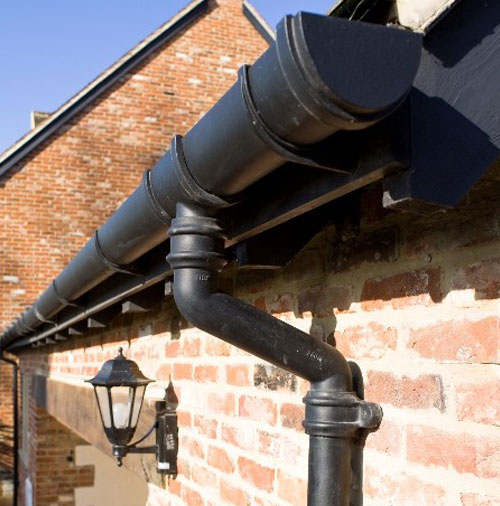 Begin by measuring the area of your roof. You can generally calculate the square footage by using a tape measure. You're in luck if you've got a gable-end roof as you only need to know the measurements of each slope. A more complex roofing structure will take longer to measure as you'll need to find out the surface area of each individual surface.
You must factor in the pitch of your roof too – the steeper the roof, the more rainwater the guttering will need to catch. A spirit level and tape measure can be used to determine the roof pitch factor, which will allow you to choose a guttering system that's a perfect fit for your property.
If you're unsure about this measurement it is worth contacting a professional.
If you have sizes in mind, head on over to our standard gutter sizes guide to learn more about the average size of different style gutters.
Understanding gutter fall and flow
While its primary task is to catch rainfall from the roof, gutters also need to drain water away relatively quickly. The flow rate of the gutter system varies from profile to profile, but it's also affected by installation and position.
Gutters should be installed with a fall, with a fall being an amount by which the gutter drops to allow water to drain away. This is usually at a ratio of 1:500 meaning that for every 5m of guttering, the gutter falls 20mm. This is to ensure water does drain into the downpipe and doesn't sit stagnantly.
---
How much does it cost to install new guttering?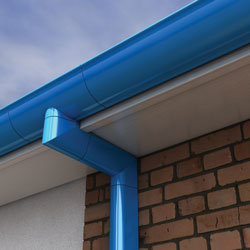 Installing a new guttering system often requires the erection of access equipment, the removal of the existing system, and the supply and fit of the new guttering.
This means the estimated cost will vary depending on roof design and access problems, but as a guide, it usually takes around a day to fit a new guttering system to a standard 3-bed semi.
If you're looking to keep the costs to a minimum, then considering which material you're going to use is a good place to start.
Plastic guttering is one of the most popular choices on the market. It's versatile and can emulate the look of cast iron guttering once it's installed, yet is a fraction of the cost.
---
Gutter maintenance tips
A good guttering system can last between 20 and 50 years, but it needs to be well looked after during that time. Regular inspections of the various guttering components should be carried out to ensure there are no obvious signs of decay. We recommend inspecting your guttering at least twice a year – more if it's close to trees or you own a property with industrial gutters.
When checking over the guttering, inspect the downpipe thoroughly as a blocked downpipe can cause issues with drainage. It's common for leaves and general debris to accumulate here, so it's worth checking that it remains clear. You'll also need to check that the joints haven't become weak and that there's no corrosion hidden under rust or gutter debris.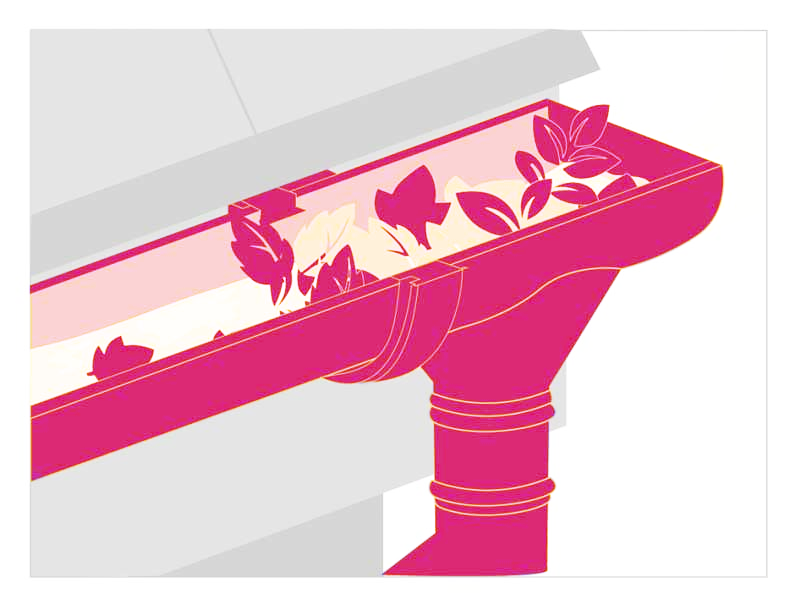 These bi-annual inspections are also a good opportunity to check the outlet capacity. Older systems may need updating in order to cope with the amount and intensity of rainfall we see today. If this is the case, you'll notice the guttering system is failing to drain efficiently or over-spilling due to the volume of water.
---
How to clean your gutters
To ensure the maximum lifespan of your gutters, one of the simplest things to do is ensure they're regularly cleaned. This will keep them performing well, save you money on repairs and keep the exterior of your home clean and tidy.
Conducting an inspection of your gutters provides a good opportunity to clean them too. A stable ladder, protective gloves and a layer of tarpaulin are required for this job, and once you're set up you can remove debris from the roof and gutters.
Our handy guide to cleaning gutters provides further information on cleaning your gutters effectively.
---
How to fix a leaky gutter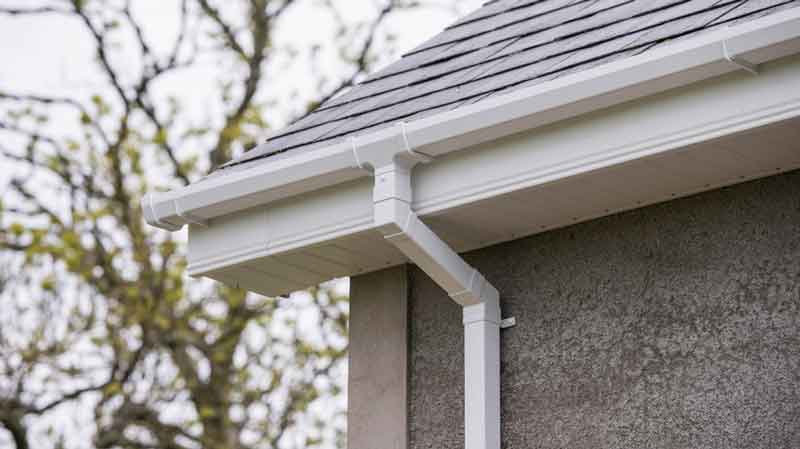 If one of your inspections does uncover a problem, it doesn't necessarily mean you have to call in the professionals. Gutters can leak for a variety of reasons including blockages, joint issues and incorrect installation.
You can find out about the remedies for fixing a leaky gutter by heading over to our 'how to repair guttering' guide.
---
Gutter guards
If you're getting a constant build-up of debris or are experiencing problems with insect infestation, it could be time to invest in a gutter guard. Guards are placed above or into the gutter and prevent leaves and big items of debris from entering the guttering system.
These guttering components not visible from the ground so don't compromise the aesthetic look of your property, are inexpensive and can be a great help in reducing detritus that can build up in gutters.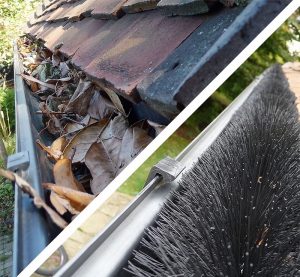 It's important to continue to clean and inspect your guttering regularly, even with the addition of gutter guards to your drainage system.
And now that you know all about the various guttering components and how to clean and maintain them, you're all set to make an informed purchasing decision!

Was this guide useful?
Let us know if you liked the post. That's the only way we can improve.
Thanks for rating this article.
Mentioned in this project guide: