Whether you're buying a new shed for your garden or you want to check the measurements of the product provided to you, measuring a shed is a fairly simple process with the right know-how. Find out how to measure a shed below and more!
---
Table of contents
---
What is the maximum size shed without planning permission?
In the UK, sheds are considered a type of 'outbuilding'. Many outbuildings (summerhouses, gazebos etc) are required to be built with planning permission. However, this will depend on the area you live in and as such you will need to speak to your local planning authority to confirm whether or not planning permission is needed for your shed. You can find your local planning authority for your project through your local council via the search provided by the government website or via the planning portal website.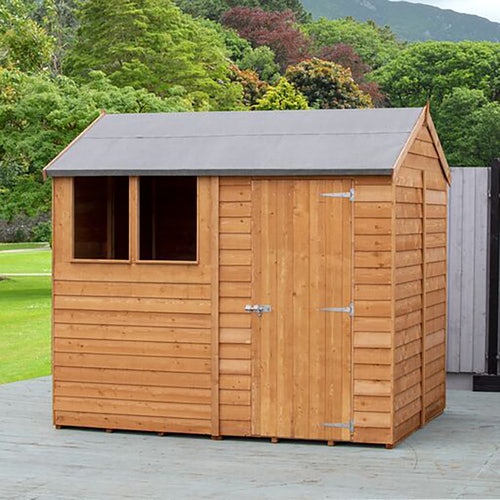 Having said that, some outbuildings are considered to be permitted development. This means that planning permission would not be needed, provided it meets or complies with the following to do so. This is a brief overview, but if you would like further information, please view the original 'Permitted development rights….' documents for the latest guidance:
No outbuilding on land forward of a wall forming the principal elevation.
Must be single-storey with a maximum eaves height of 2.5 metres and maximum overall height of four metres with a dual pitched roof or three metres for any other roof
Must not have any verandas, balconies or raised platforms that exceed 0.3 metres in height
No more than half the area of land around the original house (as it was first built or as it stood on 1 July 1948) would be covered by additions or other buildings (confirm whether an extension has been built either by you or the previous owner(s))
Below are further things to consider legally concerning curtilage and designated land when it comes to building your shed. These will also have a further effect on whether or not your outbuilding will need planning permission.
Curtilage
The outbuilding must not exceed the maximum height of 2.5 metres in the case of a building, enclosure or container within two metres of a boundary of the curtilage of the residence. Moreover, within the curtilage of listed buildings, any outbuilding will require planning permission.
What is curtilage?
Curtilage, as defined under 'Permitted development rights for householders…', is considered "land which forms part and parcel with the house". This means it is typically the area of land within which the house sits is attached (e.g. the garden). However, some properties might have large grounds and as such cover a smaller area.
Building on designated land
Designated land refers to National Parks, the Broads, Areas of Outstanding Natural Beauty and World Heritage Sites. When it comes to this, the maximum area to be covered by buildings, enclosures, containers and pools more than 20 metres from the house must be limited to 10 square metres.
Additionally, buildings, enclosures, containers and pools at the side of properties will require planning permission in most cases.
---
How close can a shed be to a fence?
How close your shed can be to a fence doesn't only depend on legalities, but also on practical reasoning. Here are some things to think about:
Damp, mould and rot: Your shed needs to 'breathe', as does your shed. If the two are too close together, this can risk disrupting the airflow between them. This can result in quick-forming damage to both features. It also means that treating it may not be possible as it could restrict access in the long term.
Accessibility: Sitting your shed too close to the fence can risk the shed door(s) not opening; as a result, it causes issues with entering and exiting the shed in future. This can also mean moving equipment in and out of the shed, especially larger garden power tools like a lawnmower, can be difficult or impossible.
Neighbours: Not all neighbours are a nightmare, but it's best to make sure that you ask if you can build the shed close to the fence before building. Should your shed also be built above the legal maximum height of 2.5 metres and closer than the legal boundary of two metres, as stated above, your neighbour could report you for ignoring legal requirements.
Further regarding legalities, if it is found you have broken the laws surrounding your shed (regardless of a neighbour reporting you for boundary dispute), your shed could be a risk of being taken down. In some cases, a fine is also a possibility. So it's best to follow the laws to be safe than sorry.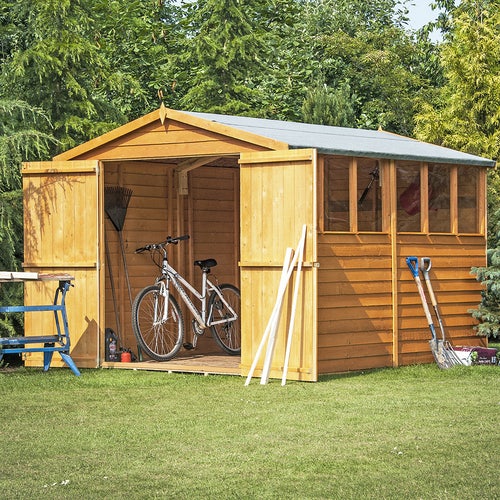 ---
What size shed do I need?
The size of your shed will depend on what you will be using it for. Here are some of the following examples of the use of a shed:
Storage
Pavillion
Greenhouse
Work
Personal
For further advice in choosing what size shed you need, check out our 'Shed buyer's guide' to discover more about the uses of a shed and answers to key questions you may have when choosing this specific type of outbuilding.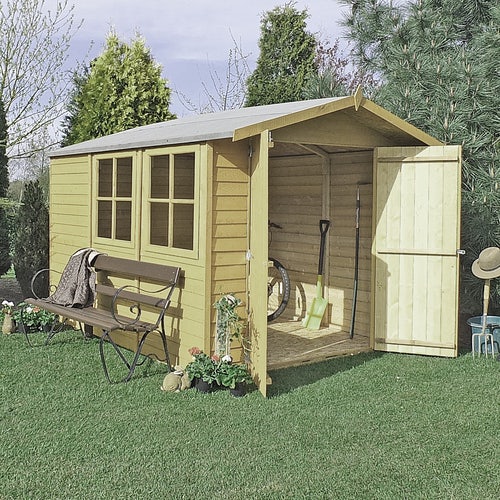 ---
How to measure a shed
Grab your tape measure and get ready to measure your shed! You're going to be finding the height, length and width/span of your shed; make sure to note down the measurements as you go. You will also need to remember that the shed size is not the same as the floor size. So if you're quoted shed dimensions, it might not include the floor area available inside of the shed itself.
You can find out more about measuring and building a shed base via our guide on how to build a shed base.
Step one: Find the height of your shed by measuring from the ground up to the eaves of the shed.
Note: If your shed is too high, you may need to obtain a ladder and someone to support you with finding this measurement to avoid risk to your safety.
Step two: Measure the length of the building on the gutter edge of the shed (include any roof overhang on both sides).
Note: Speaking of guttering, you can find out how to install guttering on a shed roof and how to put guttering on a summerhouse if you're looking for extra drainage solutions for your outbuildings.
Step three: For your final measurement, width/span (including any roof overhang on both sides), measure across the gable end (aka the triangular upper part of a wall at the end of a ridged roof).
There are your measurements! It's as easy as that. However, do contact the manufacturer or seek professional support if you are still uncertain of the size of your shed to confirm its dimensions.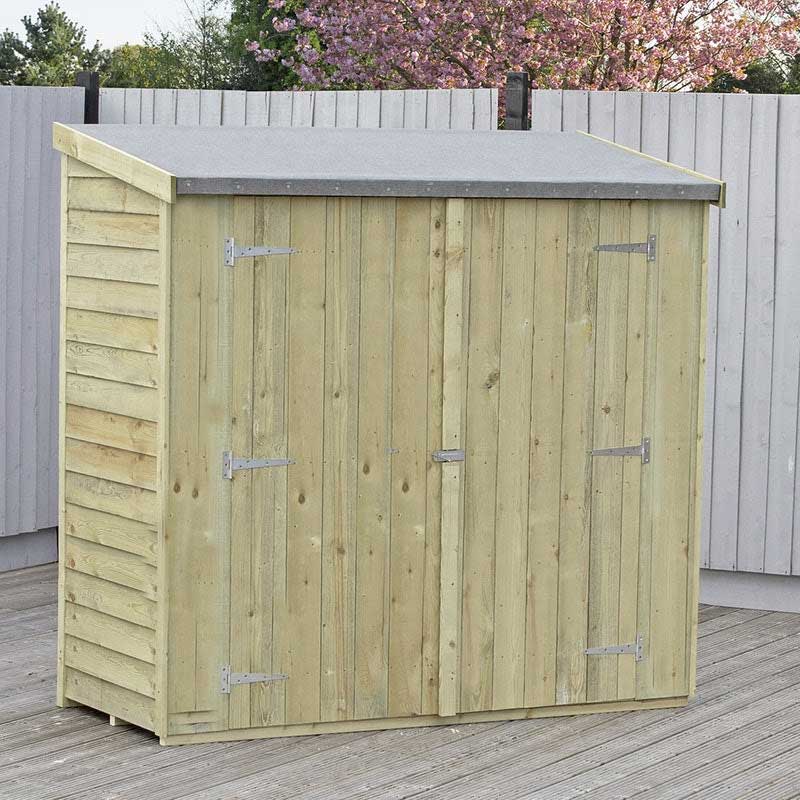 Are you keen to do more with your outdoor space? Take a look at our range of garden and outdoor products or contact our team to find out more about sheds. You can do this by using our helpline or live chat available on your screen.

Was this guide useful?
Let us know if you liked the post. That's the only way we can improve.
Thanks for rating this article.
Mentioned in this project guide: