Filter Products

By Price

BrandBrands
£
2
.
4
7
Today's Best Lead Prices
per Kg ex vat
For Bulk Orders Call 01752 692 221
1 - 249kg£2.61kg
250 - 499kg£2.60kg
500 - 999kg£2.57kg
1000kg+£2.47kg
125mm Half Round Polyester Painted Guttering & Accessories (Pine Green)
Lindab's 125mm half-round gutters are available in a polyester-painted pine green finish to suit your property.
Click the links to stock up on everything you need, from rise and fall brackets to durable self-sealing stop ends.
If you have any questions about our products or aren't sure which one is right for your project, give our friendly customer service team a call on 01752 692221.
Please note all painted Lindab goods are made to order and are therefore non-returnable after delivery has been made.
...Read more
Products in 125mm Half Round Polyester Painted Gutters & Accessories:
Showing 1-1 of 1 products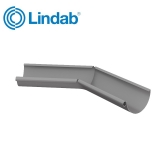 Lindab Half Round 135dg Inner Gutter Angle 125mm Painted Anthracite
from £28.92 ex vat
More
Buy
Showing 1-1 of 1 products
Page 1 of 1