Filter Products

By Price

BrandBrands
£
2
.
4
7
Today's Best Lead Prices
per Kg ex vat
For Bulk Orders Call 01752 692 221
1 - 249kg£2.61kg
250 - 499kg£2.60kg
500 - 999kg£2.57kg
1000kg+£2.47kg
Half Round Gutters & Accessories
Lindab's lightweight half-round polyester-painted guttering is an excellent choice for your modern drainage project.
Browse the categories below to discover this eco-friendly range in a host of handy sizes to suit all your needs.
If you can't find what you're looking for or have any questions at all, our friendly customer service team is ready and waiting to take your call on 01752 692221.
Please note all painted Lindab goods are made to order and are therefore non-returnable after delivery has been made.
...Read more
Products in Half Round Gutters & Accessories:
Showing 1-1 of 1 products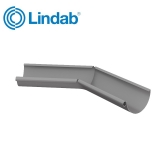 Lindab Half Round 135dg Inner Gutter Angle 125mm Painted Anthracite
from £28.92 ex vat
More
Buy
Showing 1-1 of 1 products
Page 1 of 1