Filter Products

By Price

BrandBrands
£
2
.
2
6
Today's Best Lead Prices
per Kg ex vat
For Bulk Orders Call 01752 692 221
1 - 249kg£2.42kg
250 - 499kg£2.40kg
500 - 999kg£2.37kg
1000kg+£2.26kg
Bird Spikes
Bird spikes are purposefully installed on ledges, parapets, window sills and other locations where birds would otherwise rest and drop mess behind them. They can be specific to a certain type of bird, pigeon spikes and seagull spikes for example, depending on the typical size and behaviours of the bird. Bird spikes available from Drainage Superstore have the highest number of pins per linear metre.
Bird guard spikes can be installed to protect surfaces between 42mm and 100mm wide. Many bird spike lengths can be installed for long ledges or window sills for example. Using a simple glue adhesive on porous surfaces, anybody can attach a bird spike to a ledge, parapet, chimney pot, gutter, sign post or ridge tiles too. If the surface isn't porous then a surface activator must be applied first.
...Read more
Products in Bird Spikes:
Showing 1-3 of 3 products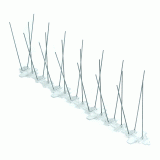 Pigeon Gutter Bird Spikes Stainless Steel - 1m (3x 330mm Sections)
from £3.50 ex vat
More
Buy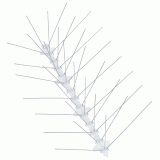 Seagull Gutter Bird Spikes Stainless Steel - 1m (3x 330mm Sections)
from £5.84 ex vat
More
Buy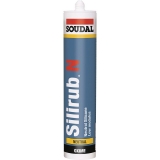 Bird Spike Silicone Adhesive - 310ml
from £2.85 ex vat
More
Buy
Showing 1-3 of 3 products
Page 1 of 1